The campsite with swimming pool and waterslide in Languedoc-Roussillon Ma Prairie offers you the opportunity to enjoy many water activities throughout your stay. Every day from 10 am to 8 pm from April to September, come and enjoy two heated swimming pools and all the facilities of the aquatic area. Animations are organized to make your holidays in Canet-en-Roussillon a real moment of relaxation and fun.
Water park facilities
In our campsite with swimming pool located in Canet-en-Roussillon, come and enjoy our aquatic spaces specially dedicated to your relaxation and fun. You are waiting for you:
2 heated swimming pools also in low season
1 slide island for 2-6 year olds
An Aquagym space
1 paddling pool for the little ones
The Spacegliss : Waterslide for teenagers, with a Pentagliss 3 tracks
A space for children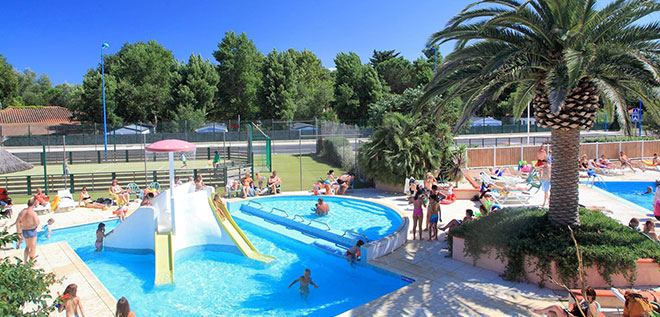 At the campsite with the Ma Prairie swimming pool, we don't forget the youngest ones! That's why we have created an area entirely dedicated to toddlers with a paddling pool and an island of water slides adapted to their age. This space is accessible to children from 2 to 6 years old. Water games are also organized by our experienced animators. Perfect to let the children have fun and relax in complete tranquillity.
Activities for teens and parents
Teenagers (or parents who want to go back to childhood) will appreciate the waterslide and its three-track pentagliss. These three mogul lanes allow several people to launch themselves at full speed, side by side. Guaranteed fun for the whole family!
You can also work on your crawl or breaststroke in one of the two heated pools. Or simply soak in the water. Swimming is an excellent sport for toning muscles without pain or impact on the joints. It's a good activity to get rid of the excesses of the previous day's aperitif or to gently get back into sport before going back to school. We also organise aquagym sessions.
Deckchairs and parasols allow you to relax by the pool, read or sunbathe under the Roussillon sun. Camping also means taking the time to do nothing and relax!
Playful animations
Animations and water games are organized in our campsite with swimming pool located in Canet-en-Roussillon during the summer in a friendly atmosphere. Our entertainers are eager to offer you many activities in order to offer you a stay under the sign of fun and relaxation. Young and old, you will love it!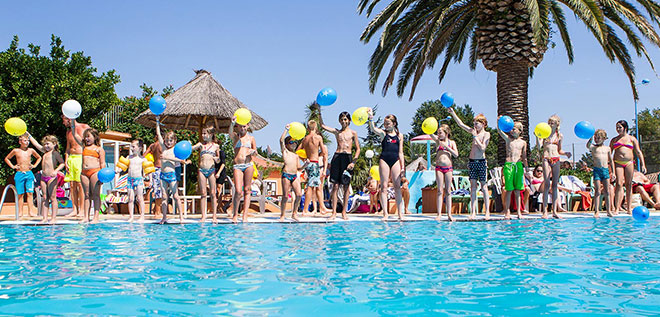 Bathing in complete safety
To make your bathing in our campsite with swimming pool and waterslides a safe and enjoyable moment, it is important to respect a few hygiene rules. For example, it is necessary to shower before entering the swimming pool, to watch the bathing or to leave your shoes at the entrance of the water area in the storage space provided.
To find out more about the safety and hygiene of our swimming pool, please consult the rules and regulations of the aquatic area on our campsite.
The swimming poolslides are open every day from 11.00 am to 6.00 pm in July and August, and on request in low season. Please respect the safety instructions posted at the foot and top of the waterslide.