On the edge of the Voie Verte and 1.4 km from the Euro Vélo 8 (EV8) to cycle the Mediterranean!
Partner of Accueil Vélo, benefiting from a good geographical situation, the Ma Prairie campsite welcomes you.
Located in the village of Canet en Roussillon, between vineyards and orchards, between sea and mountains, My Meadow offers you a country air 3 km from the beaches, accessible from the Voie Verte which borders the campsite (to be shared with pedestrians).
Access to our establishment from the E8 north (Ste Marie) is as shown on our Google Map calculator, below. Also accessible on page practical information .


Wherever you come from, wherever you want to go, we invite you to use our calculator, bike access section.
We look forward to welcoming you from May to September in the middle of Mediterranean vegetation where you will discover a calm and shady site.
Our pitches are delimited and grassy, with electricity and additional services (water and sewage disposal). We offer bare pitches for tents and camper vans but also have the possibility to rent you recent and spacious accommodation in mobile homes, cottages and pitched tents.
We have a particular and personalized attention for each of our customers. Your bike will be secured by parking it in our garage equipped with a camera. In addition, a security guard will watch over the campsite. Bike racks are also available near the bar/restaurant and sports facilities.
If you're roaming, we rent by the night.
The reception is open every day:
In low season: 9h-12h / 14h-18h.
In July/August: 9am-12pm / 2pm-7pm and Saturday and Sunday 8am-12pm / 2pm-8pm.
"Ma Prairie" offers many advantages and services for adults and children alike!
The reception team is at your disposal to give you all the information you need for your stay, both tourist and practical. Advice will not be lacking, we are from the area. You will find among others a tourist map of the department, a cycling map of the department and walking circuits in the surroundings.
If you have forgotten your bike, take advantage of a bike rental to discover the 4 theme circuits around Canet, to access the fine sandy beaches and gently sloping sea, to learn paddle, windsurfing, etc... or attend events at the Europa swimming pool (competitions with the best swimmers in the world).
We rent cruiser bikes, carts and baby seats.
For safe rides, helmets and puncture-proof kit are provided. For any damage, we have a repair shop. If it happens several kilometers away and you cannot repair it, please note that the following taxi companies accept bikes :

Hello Taxi Canet bikes
: +33 (0)6 82 11 76 04 –
[email protected]
–
2 passengers + 2 bikes
Coastal Taxi Bicycles
: +33(0)6 09 60 65 07 –
www.canet-taxi66.com
–
8 passengers + 3 bikes on luggage rack
Roman Taxi
: +33 (0)613 01 9714 –
[email protected]
 –
4 passengers + 2 or 3 folded bikes
A bon port Canet Taxi
: +33(0)6 09 60 65 07 –
www.canet-taxi66.com
–
8 passengers + 3 bikes on luggage rack

If you wish to transfer your luggage to the next point of accommodation, we can provide the transfer via a taxi company (at an additional cost). Similarly, we can book your accommodation for the next step free of charge.

At the campsite "Ma prairie" you will find everything you need for an unforgettable stay!
The reception is at your disposal: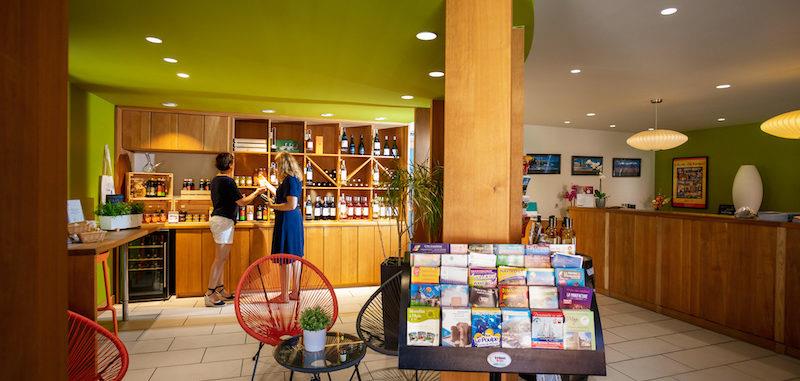 Practicality
Sport and leisure activities
Practicality
Consulting the weather report.
WIFI: free zone limited to bars and restaurant, paying in the rest of the campsite with special rates for families.
Tourist information point at the reception with possible reservations for excursions and partner services.
Sale of postcards, newspapers and international press.
Bread and pastries to be ordered the day before in low season. In high season, the baker will be there daily from 8.15 am to 9.45 am.
Restaurant with traditional dishes typical of Roussillon and wines of the region. The quality of the cuisine has been rewarded with the Sud de France/Sud de France quality label.
Collective barbecues.
A laundry: washing machine and dryer (tokens).
An iron loan (deposit).
Rental of sheets and towels.
Rental of individual safes based at the reception desk.
Rental of fridges, surfboards, gas bottle.
Baby pack rental (bath, folding bed and high chair).
A pet shower.
Sport and leisure activities
2 heated swimming pools with islands of slides that can be used throughout the opening period, aquagym.
Multi-sports grounds: football, basketball, volleyball, handball, mini tennis, tennis-football, badminton,
But also petanque, climbing wall, fitness room.
Without forgetting the moments of relaxation with the library (various books in different languages), board games and pilates classes.
In our
campsite with swimming pool located in Canet-en-Roussillon
Come and enjoy our aquatic areas specially dedicated to your
relaxation
and
your fun
. Waiting for you:
2 heated swimming pools also in low season.
1 island of slides for 2-6 year olds.
An Aquagym space.
1 paddling pool for the little ones.
The Spacegliss: Water slide for teenagers, with a 3-track Pentagliss.
Useful information: travelling with your bike
Two possibilities for travelling by train with a bicycle
On all trains: folded or dismantled and stored in a bag, Bicycles are accepted free of charge, within the limit of available places. Considered as hand luggage, the bicycle under cover must be labelled and must not exceed the maximum authorised dimensions: 120 x 90 cm.
On most trains, dedicated areas marked with a pictogram allow you to travel with a bicycle.* (subject to availability).
*Onlystandard bikes are accepted on board the trains. The transport of recumbent bicycles, tricycles, tandems and trailers of any kind is not allowed.
Information / Reservation
At SNCF station counters More information on www.velo.sncf.com
TGV: Perpignan SNCF station - Av du Général de Gaulle 66000 Perpignan
By phone at 3635
By Internet: www.oui.sncf.com or www.trainline.fr Bicycle seat reservations on mobile phones are impossible in both cases.
Specific bicycle section of the SNCF : http://www.velo.sncf.com/
The formulas that allow you to reach or leave the Pyrénées Orientales with a bike (TGV and bike, lntercité and bike, TER and bike)
TGV : stops and departures via Perpignan
Free transport of dismantled bikes under specific luggage cover with a maximum size of 120 x 90cm.
Paid transport of undismantled bikes in a special area on reservation (10€ per bike). However, not all TGVs have this space, which should be checked when booking.
SNCF "Luggage at home" service (€80 per bike) which takes the bike and delivers it to the address of your choice.
Intercity : stops and departures via Perpignan, Elne, Argelès sur Mer, Collioure, Port-Vendres, Banyuls sur Mer, Cerbère
If the bike is not dismantled it must be installed in dedicated spaces.
Sometimes a reservation is required and must be made at the same time as the purchase of the ticket.
Consult the timetables and look for the "Bicycle" pictogram.
On board each Intercity night train, a space is set aside for transporting bicycles.
Booking is compulsory (10 € per bike).
TER: lines 02, 05 and 06
Line 02: Cerbère - Montpellier - Avignon.
Line 05: Cerberus - Perpignan - Narbonne.
Line 06: Perpignan - Villefranche - Latour de Carol (Itinerary of the Yellow Train (TER)).
Practical information for TER trains in Languedoc-Roussillon
Bicycles that are not dismantled are accepted free of charge.
Subject to availability.
Except during peak periods.
The Red Train of the Cathar and Fennel Country (TPCF)
Circulation from Rivesaltes to Axat from April to October.
Reservation recommended.
For more information: tel. +33 4 68 20 04 00 - website : www.letrainrouge.fr.
The SANKEO bus
The buses of the Sankéo Company line 3 "Canet en Roussillon-Perpignan" run all year round, 7 days a week.
Bicycles are not accepted including folded bicycles.
Itineraries, timetables, interactive map, tickets and fares:
27 Bd Clémenceau, 66000 Perpignan
+33(0)800 80 03 70
https://www.sankeo.com/552-Depliants-horaires.html
The 1€ LIO buses of the Occitania/Pyrenees-Mediterranean Region
https://lio.laregion.fr/transports-pyrenees-orientales-regulier
Namely:
If space permits, bicycles are admitted free of charge in the hold provided the hold is not already occupied by luggage (beware of the lines to the spas which are often loaded).
They can only be accommodated in large buses with a maximum of 3 bicycles per coach.
Most cargo holds do not have carpeted bottoms, so bikes can slide around. The customer must be informed of this.
Drivers are not allowed to help the cyclist to put the bike in or take it out of the hold outside the arrival and departure station. In most cases, the client will receive instructions from the driver but will have to manage on his own.
Neither the carrier nor the region can be held responsible for the loss, theft or damage of the equipment transported.
Itineraries, timetables, interactive map, tickets and fares:
Gare Routière - Bd Saint Assiscle, 66000 Perpignan
+33(0)806 80 80 90
https://lio.laregion.fr/transports-pyrenees-orientales-regulier
Presentation of the brand " Accueil Vélo "
A green setting for a revitalizing stay!
Our establishment is connected by a cycle path to the EV8 La Méditerranée à vélo!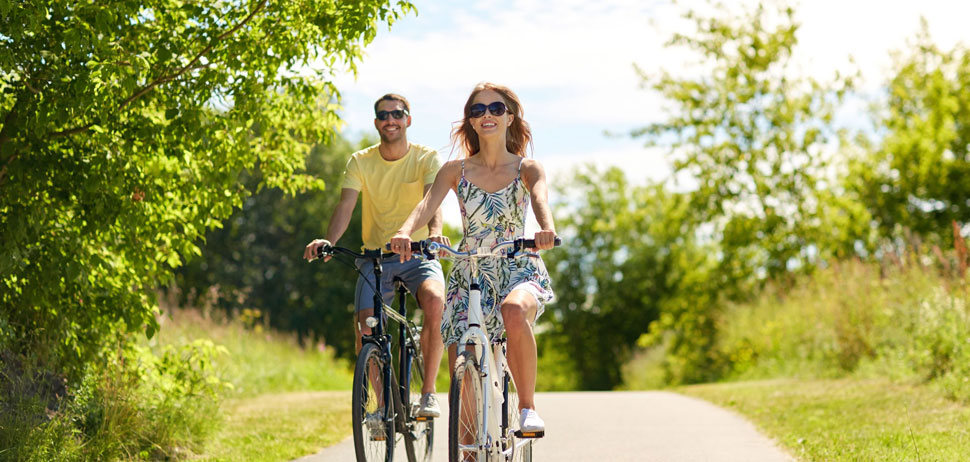 Accueil Vélo is a national brand that guarantees quality reception and services along cycle routes for roaming cyclists. It commits professionals to offer a welcome and services adapted to tourists on bicycles.
Accueil Vélo allows bicycle tourists to identify the establishments and places suitable for bicycle tourism, and thus benefit from an appropriate welcome and services. The number of bicycle tourists is increasing, particularly on cycle routes that have been developed for this purpose
Several types of professionals adhere to the brand Accueil Vélo :
Tourist accommodation
Professional bike rental companies
Bicycle repairers
Tourist offices
Tourist sites
Restorers
Some useful links for your itineraries
France Vélo Tourisme invites you to change your pace and go on a bike trip for a weekend or a holiday. Whether you're with your family, as a couple, with friends or even alone on cycling and mountain bike routes, take the handlebars... and discover our territory!
The Mediterranean by bike is the French part of EuroVélo 8, the cycle route crossing 11 European countries from southern Spain to Cyprus. In France, the Mediterranean by bike covers 850 kms from Perthus to Menton.
The itinerary offers a diversity of remarkable landscapes: mountains of the Pyrenees or the Alps, ponds of the Narbonnaise, Languedoc or Camargue Gardoise, canals of the Midi or the Rhone at Sète, Provencal hinterland and beaches of Languedoc, Roussillon and the Côte d'Azur.


The route joins the Canal des Deux Mers à Vélo on the Canal du Midi and the Via Rhôna between Sète and Beaucaire.
In the Pyrénées Orientales, come and test the Mediterranean by bike, from Barcarès to Perthus to discover the coast in a different way.
www.tourisme-pyreneesorientales.com
Download the Guide du vélo dans les Pyrénées-Orientales (Cycling Guide in the Pyrénées-Orientales) http://www.ot-canet.fr/download.php and the 4 themed discovery circuits in and around Canet en Roussillon.
Download a diagram of a bike  


PDF 284KB