Our campsite is located near Cerdanya, an ideal opportunity to discover the natural park of the Eastern Pyrenees on board the little yellow train (also affectionately called "Canary" by the Catalans). For over 100 years, it has been traveling through the Regional Natural Park of the Catalan Pyrenees. Get on board the little yellow train to discover the richness of the Catalan country and its preserved nature.
The Canary, symbol of the Pyrenees and Cerdanya
The small yellow train of the Cerdanya region, with electric traction, serves 22 stations to connect the station of Villefranche Vernet-les-Bains to Latour-de-Carol, a journey of just over 60 kilometers. The curves, the steep gradient as well as the bridges and tunnels make all the charm of this railway line.
Several amazing facts about the little yellow train of the Cerdanya region:
Construction began in 1903 but the line was not completed until 1927.
The Bolquère-Eyne stop is the highest station in France. It culminates at 1593 meters above sea level.
The Gisclard bridge is the first metal railway bridge in France. Its construction started in 1905 allowed the Canary to cross the Têt valley. It is also classified as a historical monument.
The average speed is 30km/h but can sometimes go up to 55km/h.
The little yellow train criss-crosses the Cerdanya region. This high plain is appreciated by hikers for its wild landscapes, lakes and ski resorts. On board the "Petit Train", you can see typical villages of the Haut-Conflent and several massifs of the Eastern Pyrenees: Canigou, Cambre d'Aze, Carlit and Puigmal.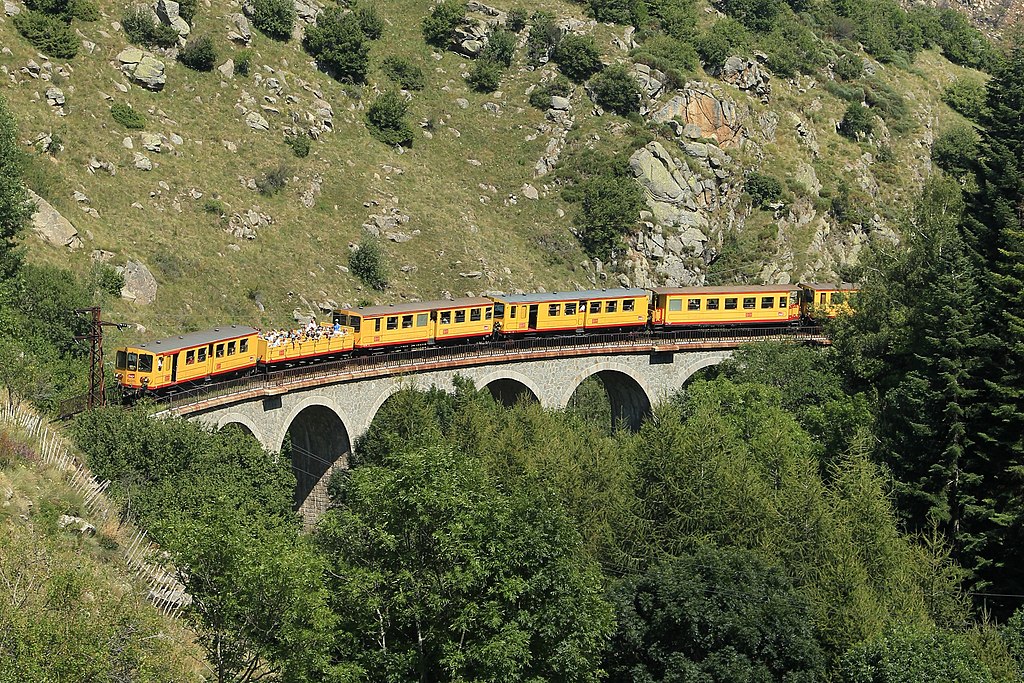 Practical information about the little yellow train
From your pitch or your campsite rental in Canet-en-Roussillon, it takes about 60 kilometers to reach the departure station of the little yellow train and discover the Cerdanya region.
There are a number of things to keep in mind
Reservation required for groups.
Discount cards do not work in the summer.
Schedules change with the seasons.
In the summer, you can travel in an open wagon to enjoy a panoramic view.
Arrive at least 30 minutes early to make sure you have a place, especially in the summer.
Cannot book a ticket in advance.