When booking your holiday at our Pyrénées-Orientales campsite, take advantage of the wonderful beaches in the surroundings of Canet Plage . The Roussillon coastline has a wide variety of beaches ranging from the sandy coast with its large expanses of fine sand, to the rocky coast with its small coves and unspoilt wilderness.
The beaches of the sandy coast
Canet Plage and Saint-Cyprien
Canet-en-Roussillon and St-Cyprien have the largest sandy beaches in the Pyrénées Orientales. The region is particularly well known for its windsurfing, kitesurfing, windsurfing and Stand Up Paddle spots. These 2 seaside resorts have as a priority to ensure the highest quality welcome to tourists and have obtained reference labels such as " Blue Flag ", " Qualité Sud France ", " Qualité Tourisme " or even " Handiplage ", a guarantee of quality.
Camping Ma Prairie is located 3 km from the sandy beaches of Canet Plage. This is still close enough to get there on foot. It takes about half an hour to walk there. If you don't want to take your car to get there, there's also a cycle path linking the campsite to the beach. You have the possibility to rent bicycles at our campsite near Canet Plage. You can also take the bus. The stop near the campsite can take you there! The advantage is that you can happily enjoy all the advantages of the resort without the inconvenience of the crowds and the festive spirit of a dynamic seaside resort!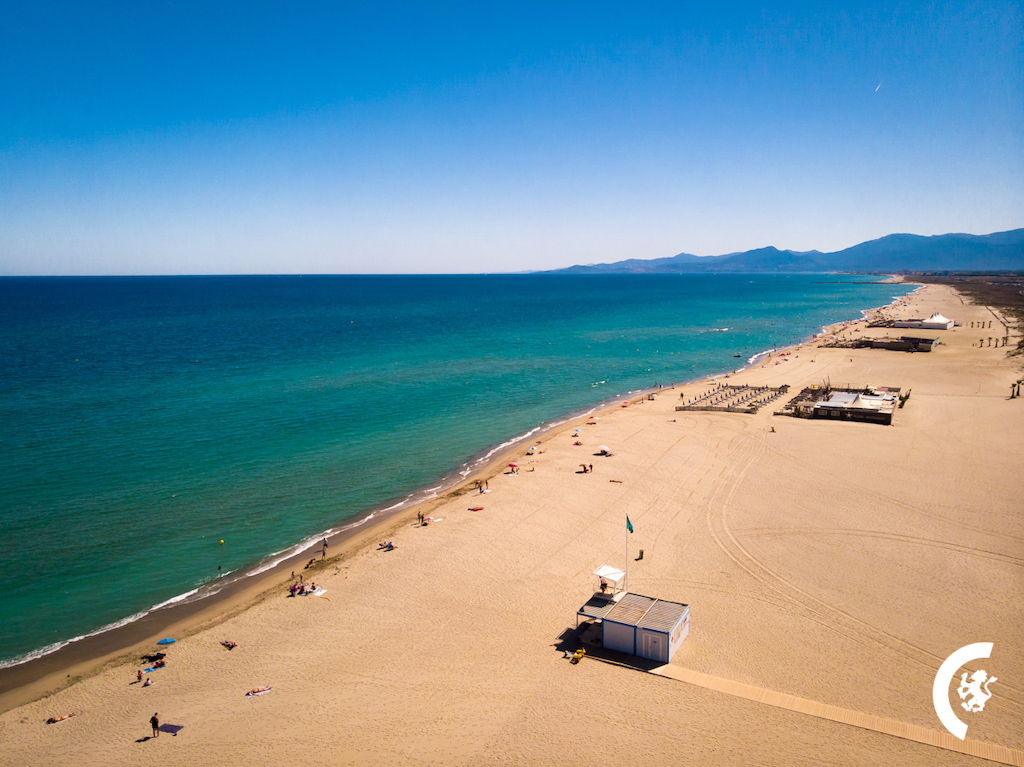 The beaches of the Vermeille coast
Jewel of the Catalan coast, the Vermilion Coast celebrates the meeting between the Mediterranean and the Pyrenees on its way down to Spain. It unveils its wild landscapes and creeks as soon as you arrive in Collioure and as far as Cerbère, often only accessible on foot, by numerous paths.
Collioure
L'Anse de la Balette, Saint-Vincent beach or Boramar beach are all small coves of pebbles or gravel, located in the centre of Collioure. They surround the maritime chapel "Notre Dames des Anges" whose bell tower has inspired many painters among the most famous Derain or Braques. The water is clear and it is pleasant to refresh yourself after walking through the steep streets of the village. Swimming is supervised in summer.
Also read: our tourist guide of Collioure.
The wild creeks of Port-Vendres, Banyuls-sur-Mer and Cerbère
Here, it is the Mediterranean that will reveal its most beautiful secrets: Port-Vendres, Banyuls, Cap Béar offer seabeds of extraordinary biodiversity, sheltering protected species that find refuge in its waters to reproduce. The protected site (labelled Natura 2000) of the Bay of Paulilles, developed around the "old Powder Magazine" (now the Museum of Industrial Heritage and repair workshop for Catalan boats), offers you privileged access to this beautiful treasure. Masks, flippers and snorkel for a wonderful dive!