In the campsite at Canet
The Bar – Restaurant MA PRAIRIE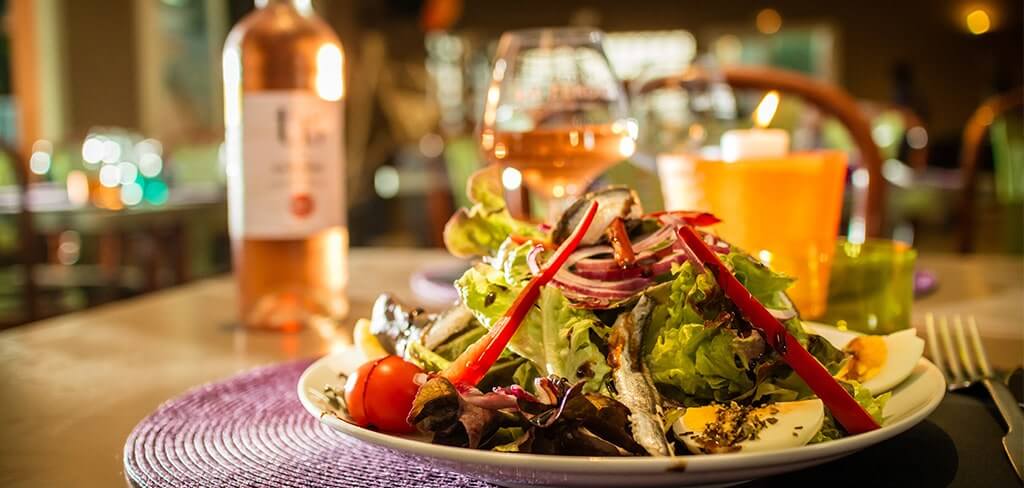 From 9:00 am to 11:00 pm, the restaurant will propose you a traditional cuisine with typical Catalan recipes well accompanied with a good selection of wines produced in the Roussillon, especially those produced by the "Domaine de la Perdrix" regularly rewarded by best wine guides. This passion for our gastronomic Catalan inheritance is one of criterion for our "Quality Sud de France" labeling. In July and August, the Restaurant organizes special evenings and a musical concert once a week.
Discover the Catalan Specialities from our area
The Pool Complex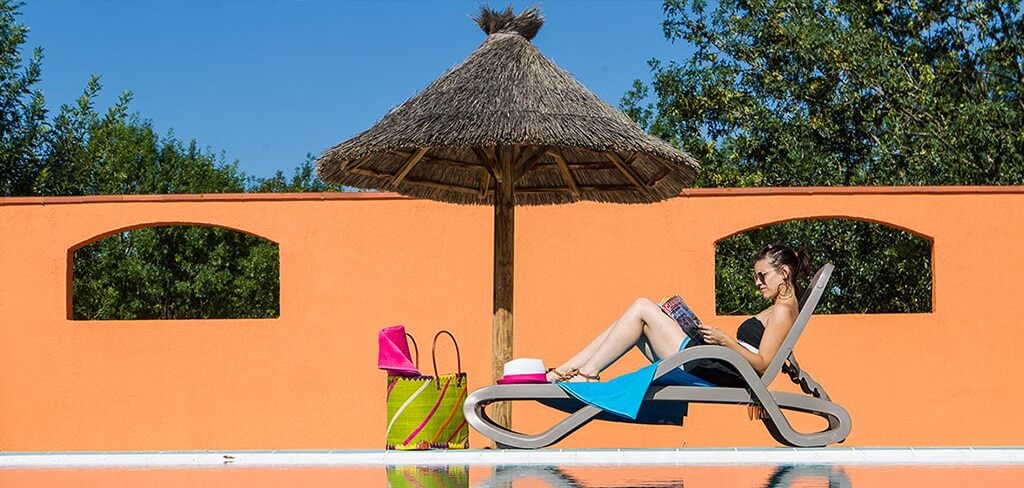 From May to September, from 10:00 am to 8:00 pm, you will enjoy the comfort of our pool area facilities and the 2 heated swimming pools.
2 Heated swimming pools
1 paddling area for children of 2 to 6
1 water slides with 1 Spacegliss and 3 pentagliss
In July and August, our animation team will organize funny activities at the pool area. Everything for let you have fun and relaxed moments during your Holidays in Canet en Roussillon.
For the children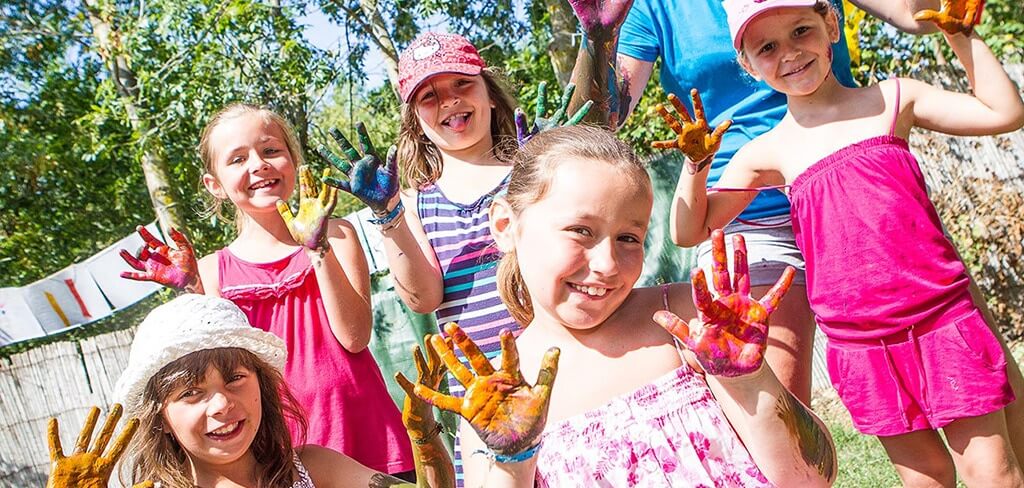 Camping is a favorite holiday time for the Children: they feel more freedom, meet new friends and can have funny activities all day long!
And their parents will appreciate the secured and well framed environment of Ma Prairie campsite: a good opportunity to profit of a well deserved rest…
Many activities are proposed by a friendly animation team in French, English and Dutch.
Discover our children activities
The library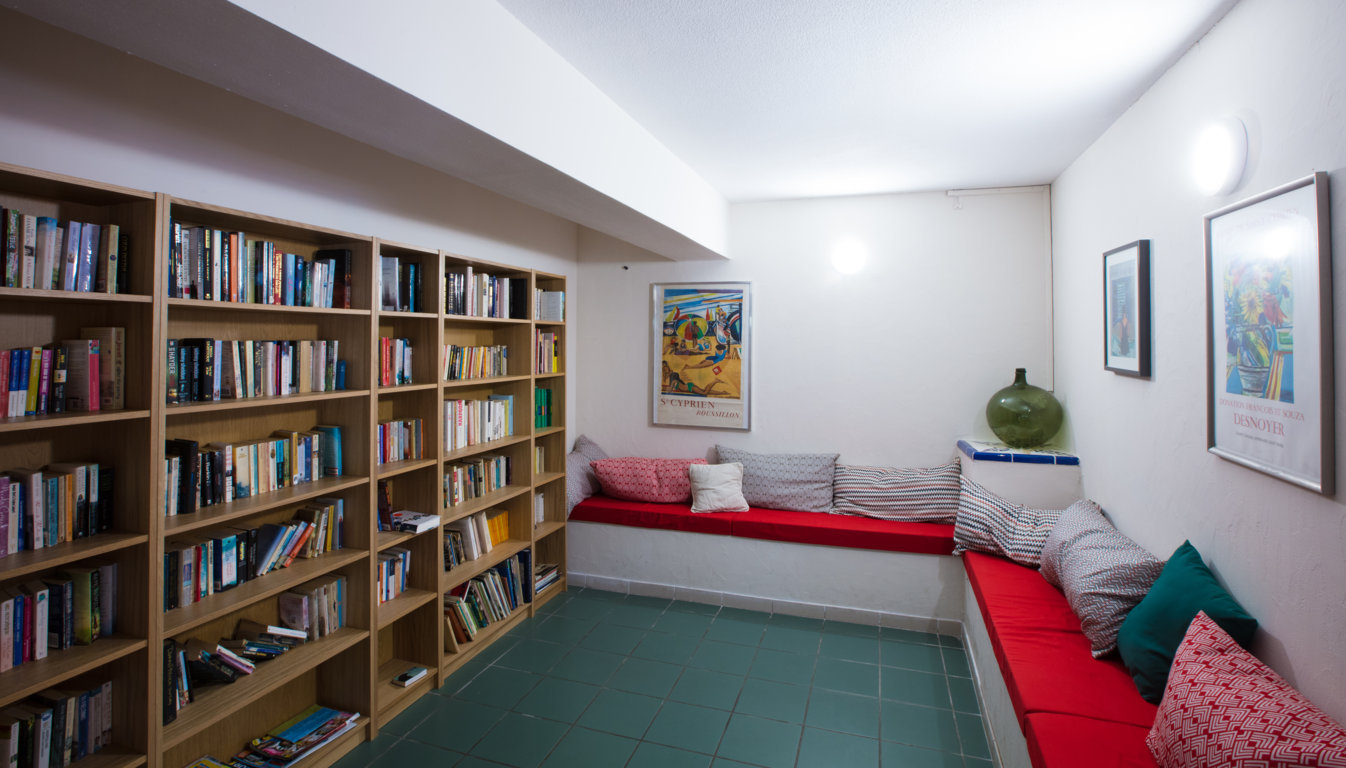 For a calm and relaxing moment, take a break in our library! During the holidays, we sometimes want to have a moment of serenity in the heart of a cozy and soothing environment. Our campsite with library is ideal for a relaxing break away from the hustle and bustle of the everyday life. It's perfect to relax and enjoy a good book. Don't hesitate to borrow one of our many books.
We offer a large selection of books:
Novels,
magazines,
BD,
Encyclopedias,
Recipes,
…
The books we offer are available in several different languages. We also offer a large selection of board games. Ideal for having a good time with family or friends!
The multisports ground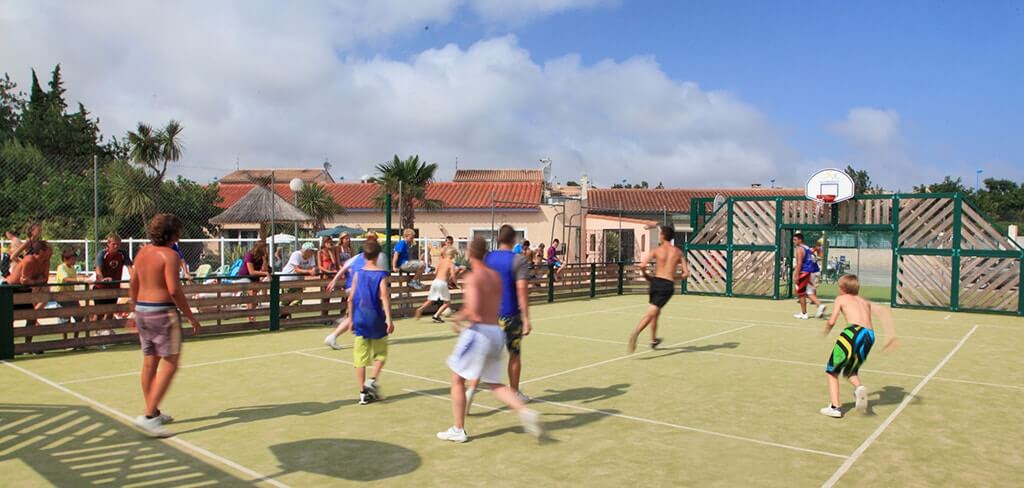 In the campsite, you will find a multisport playground where you will be able to practice football, basketball, volleyball, handball, mini tennis, tennis foot or badminton. A ground is reserved for playing Petanque and we also display a table tennis table.
In high season, the animation team organizes sports tournaments for all ages, as well as fitness or other soft sportive activities.
New: once a week a mobile climbing wall is settled for let you appreciate or discover the climbing activity for all the family! This activity is overseen by skilled instructor.
Fitness room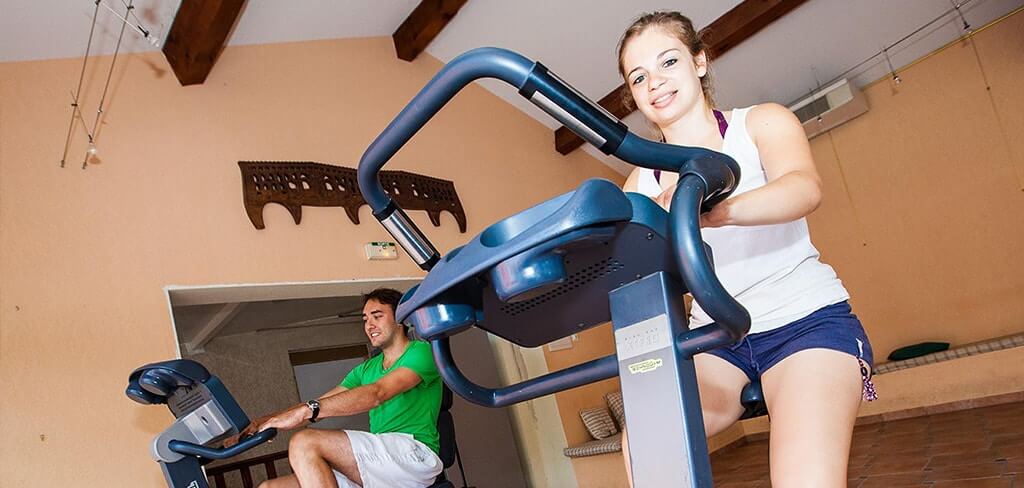 In free access for adults only, we provide fitness machines to allow you get back or simply recover in shape:
2 elliptical machines
3 bikes
1 speed biking bike
Pilate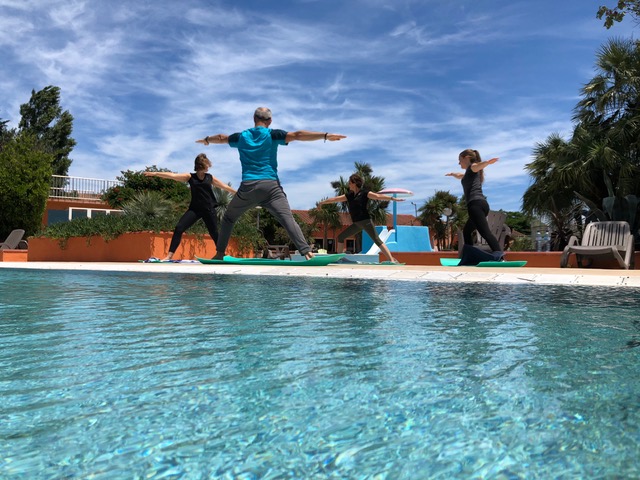 On vacation, we like to take care of our body and mind. Among the many activities organized in our campsite located in Canet-en-Roussillon, discover the Pilate by the pool. It is a physical activity inspired by yoga, gymnastics and dance that is practiced on the floor, on a carpet. It is fulfield out by a certified teacher.
This discipline is ideal for relaxing while strengthening your muscles in depth. Pilate has the advantage of being an activity that is carried out smoothly. Full of benefits, it allows you to improve your posture and to help you to better control your breathing. On the muscular side, it offers you an effective reinforcement while helping you to eliminate your back pain and firm up your stomach. Hard not to succumb!
Enjoy ou Pilate activitie 2 times a week during the high season.
Massage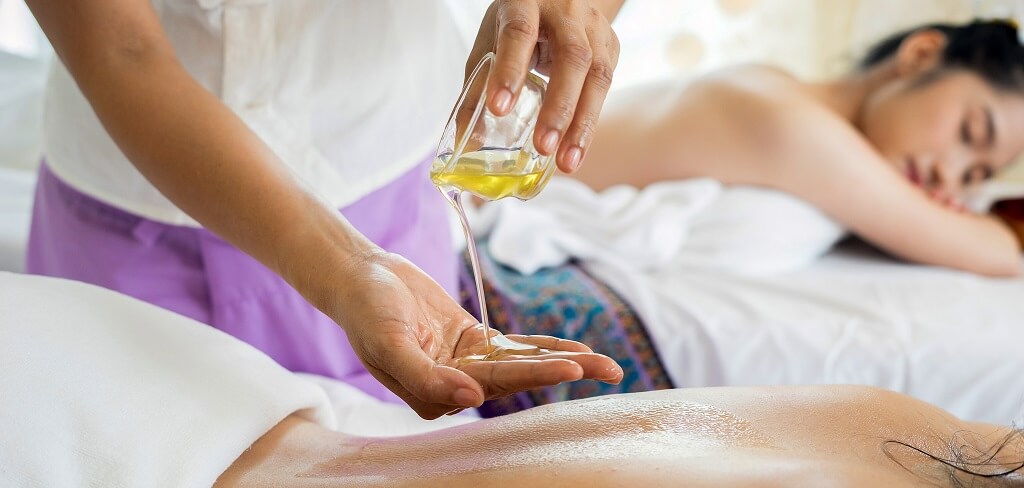 Enjoy a good moment of relaxation and rediscover the harmony of your well-being thanks to a massage carried out by Isabelle, our professional masseuse. 3 services are offered:
Chinese massage 30 or 60 minute
Couple massage twice 25 or 45 minutes
Foot reflexology 60-minute
Thanks to the massages we offer, recharge your batteries.
For more information or reservations, contact 07 78 80 42 66.
Bicycles to rent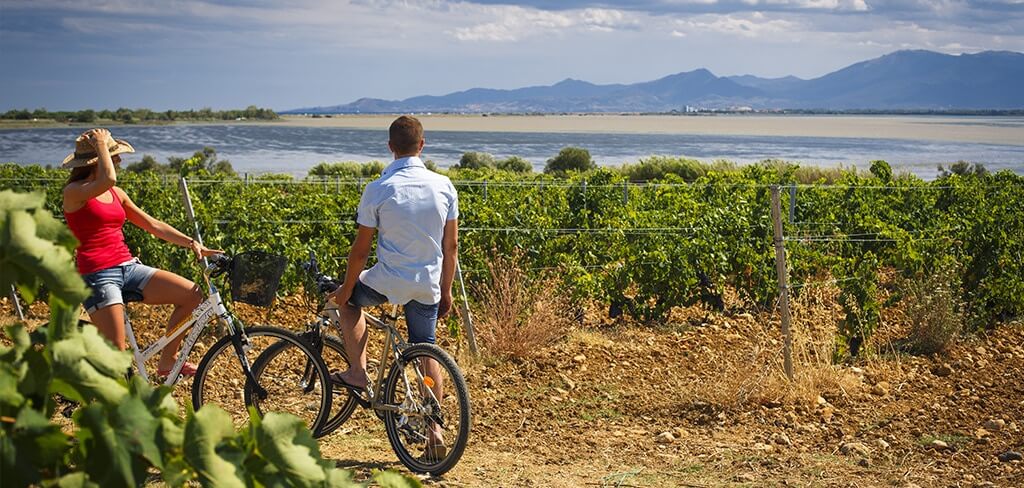 The landscape around Canet can give you a sudden urge for touring on a bicycle for cycling to the beach or in the middle of the vineyards! In the campsite, you will be able to rent bikes for adults and children, with baby seats or cariole if you need some.
Cycling is an environmentally friendly method of transportation that can be use alone, as well as with the all family!
Our equipment:
bikes for adults
bikes for children
cariole
baby seats
helmets and repair kit
Around Canet en Roussillon
Wine, wine tasting and music concerts at the DOMAINE DE LA PREDRIX
Every Thursday evenings, in July and August, Virginie and André Gil offer you a warm welcome at the wine cellar of their vineyards for a wine tasting of their more precious production in a friendly atmosphere: after the degustation, André lights some barbecues and the summer evening is ending with a music live concert around your picnic diner.
"The Domaine de La Perdrix" is run by André, the brother of Simon, owner of Ma Prairie campsite. The domain is situated in the village of Trouillas, at 15 kilometers far from Perpignan and 26 from Canet en Roussillon. In half an hour only, you can join an unforgettable experience!
Wine, a family affair for the Gils !
Discover their story and the music animation program of the Domaine de La Perdrix
Water and sandy sports on the beaches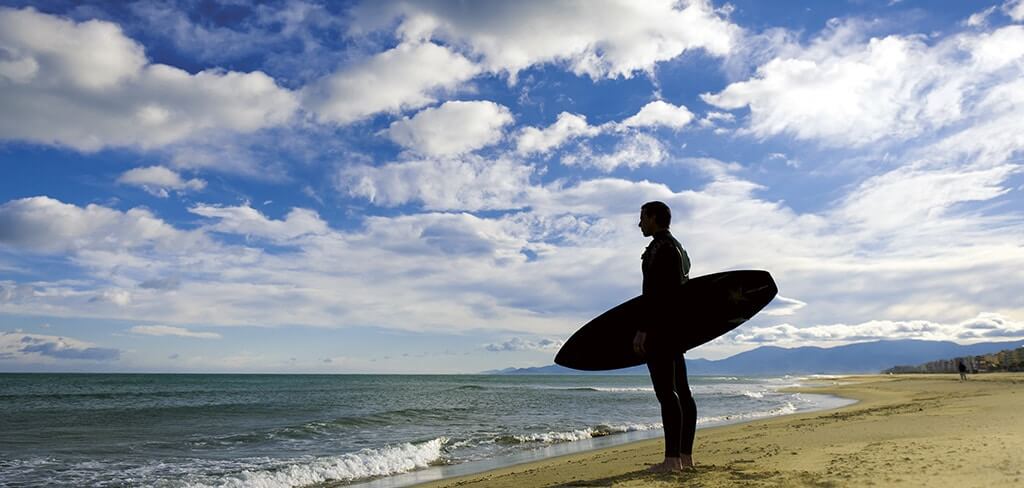 Canet en Roussillon and Saint Cyprien possesses the longest sandy beaches of the Pyrénées Orientales. The area is particularly well-known for windsurfing spots, kite surfing or practicing standup paddle.
Good to know: The resort of Canet en Roussillon proposes a good quality program of entertainments and activities.
Outdoor sports and water sports
Climbing Canyoning Rafting Via Ferrata ! For those who enjoy outdoor activities, our partner Deversud Pyrénées Orientales can let you discover the best spots of the area! Discover the Gorges de Galamus by canyoning with all family, walking up to the Canigou or walking along the via ferrata for exploring the Saint Paul de Fenouillet view…
For beginners or for skilled you can discover magic places!
Excursions by coach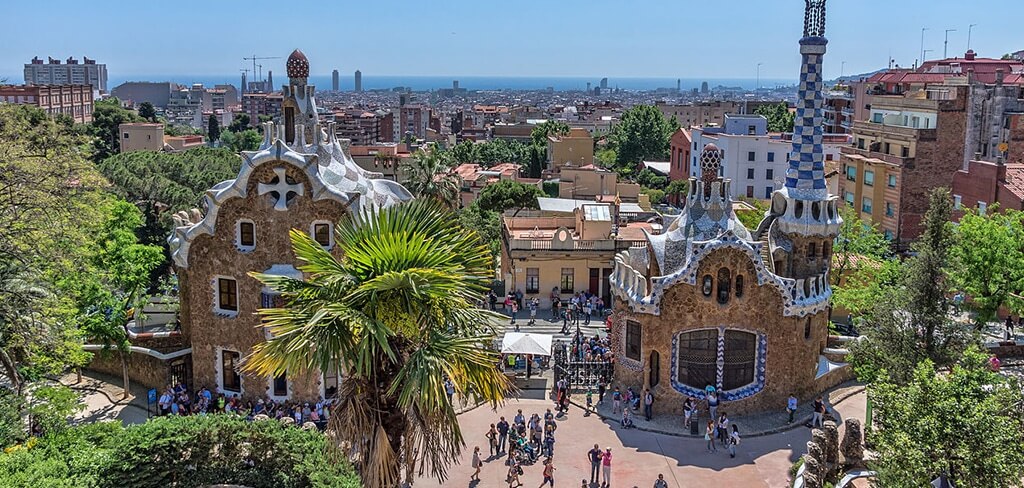 A large program of excursions is proposed with departures from the campsite, by our partner "Cars Verts Voyages". One day trips to Barcelona, capital of Catalonia (free or guided visits), the Camp Nou museum (famous football club of Barcelona), the Little Yellow Train, Andorra, Figueres and the Dali Museum, the Canal du Midi…
New Summer Program is available every spring of the year.
Discover the region
Swimming Center Europa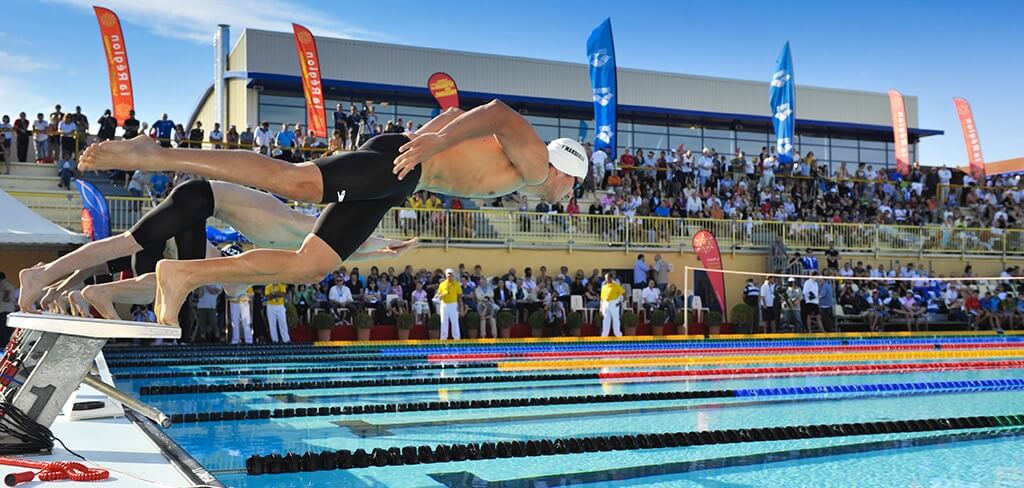 The 4 stars campsite Ma Prairie is located at only few hundred meters from the Center Europa. For all international competitions, Ma Prairie is the easiest place for accommodate you.