An ideal pitch for your stay at our Camping
For your stay in the Pyrénées-Orientales, discover our standard pitches located in Canet en Roussillon. With an average size of 100m² for maximum comfort, they are all connected to the water-grid and the wastewater-system. They can accommodate 2 to 6 persons. They can park a caravan (camper or tent), its awning and a car.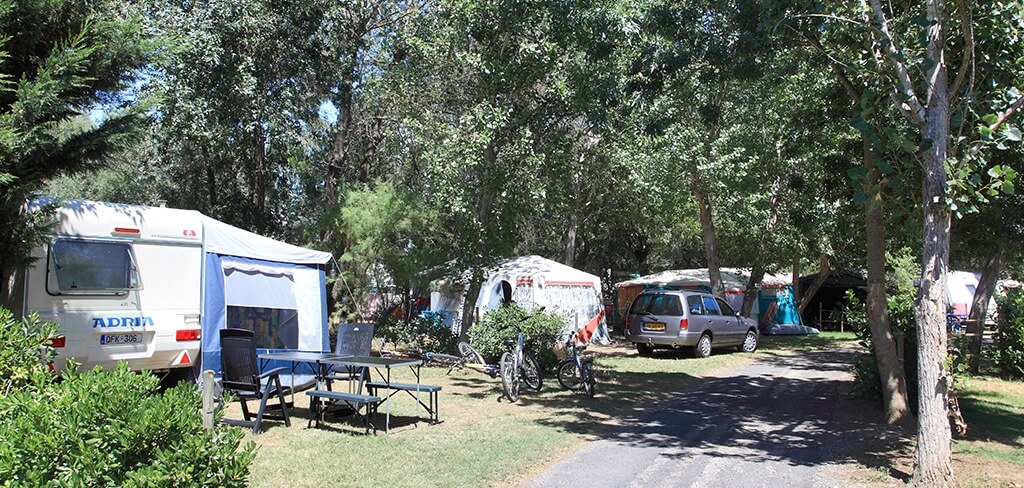 Description
Availability
Reviews
Camping Pitches, in Canet-en-Roussillon, Eastern Pyrenees
The camping pitches we offer are located in a wooded and natural setting. They are grassed and are delimited by trees. They have a semi-shaded or sunny exposure, according to your preferences. It is a particularly pleasant environment!
Our campsite offers you the opportunity to arrive and leave the day that suits you (no imposed day!). This allows you to organize your stay in a flexible way depending on your vacation project. All STANDARD camping pitches that are available for rent are equipped with European electrical terminals. They can provide up to 10 Amps. Sanitary blocks, regularly maintained and controlled (with showers and toilets) are located nearby.
The camping pitches you'll find in our campsite located in South of France measure on average 80 m². They offer you all the necessary space to spend relaxing holidays and enjoying the idyllic setting that Canet-en-Roussillon offers. If you need to install bulky equipment, please let us know beforehand (size and quantity) of your arrival so we can provide you a location that suits your needs.
We thought of everything to facilitate your stay in Canet-en-Roussillon! Remember to reserve your refrigerator (table top) or your plancha (gas supplied) if you need some. They can be rented on the campsite reception (availability not guaranteed) or reserved in advance (guaranteed availability). Collective barbecues are also available nearby. Renting these camping pitches gives you access to our aquatic area, with slides and heated pools, as well as all the services we offer in our campsite.