An ideal camping pitch for your stay in Canet-en-Roussillon
For your stay in the Pyrenees-Orientales, discover our campsites. With an average size of 80 m², they are suitable for families or groups of 2 to 6 people (with a maximum capacity of 3 adults and 3 children). Each one has a 10 Amp electrical supply (European standard terminals - adapter required). They can accommodate a caravan (motor home or tent), its awning and a passenger vehicle.
If you wish to rent a larger camping pitch, discover our 100 m² Grand Confort pitches.
At Ma Prairie Campground, we are particularly committed to preserving our natural environment: no more phytosanitary products are used for the maintenance of our green spaces and our soils are enriched with natural fertilizer. Our soil has thus regained all its richness, allowing a whole ecosystem to flourish in our park. Insects essential to the biodiversity of the subsoil (ants, earthworms...), but also bees, butterflies, birds (hoopoes, goshawks, woodpeckers, starlings, owls...) but also squirrels, rabbits... will cohabit with you during your stay in the middle of nature. All our pitches are located in a real garden where a large number of typically Mediterranean plant species are naturally intermingled. The trees will provide you with a light natural shade, more or less dense depending on the place where you are. The ground is covered with grass and the separations are all vegetal.
.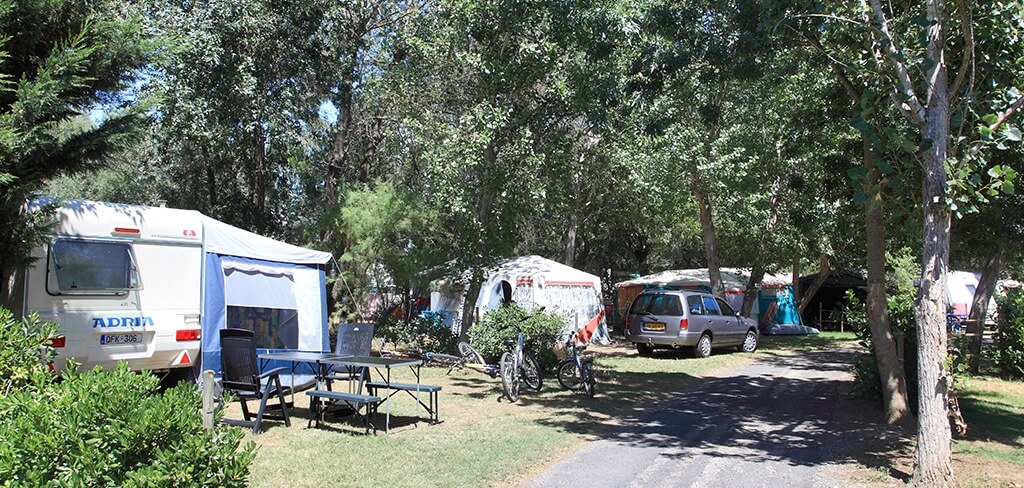 Description
Availabilities
Notice
Wooded camping pitches
The camping pitches we offer are located in a natural, wooded setting. They are grassed and are delimited by trees. They have a semi-shaded or sunny exposure, according to your preferences. It is a particularly pleasant environment!
Our campsite offers you the possibility to arrive and leave on the day that suits you (no imposed day!). This allows you to organize your stay in a flexible way according to your vacations and your project of vacation. All STANDARD pitches that are available for rent are equipped with European power points. They can supply up to 10 Amps. Newly built, regularly maintained and checked sanitary blocks (with showers and toilets) are located nearby.
The camping pitches that we offer are on average 80 m² in size. They offer you all the space you need for a relaxing holiday and to enjoy the idyllic setting of Canet-en-Roussillon. If you need to install bulky equipment, remember to let us know beforehand (size and quantity) of your arrival so that we can offer you a pitch adapted to your needs.
We have thought of everything to make your stay in Canet-en-Roussillon easier! Don't forget to reserve your fridge (table top) or your plancha (gas supplied). They can be rented on site (availability not guaranteed) or booked in advance (availability guaranteed). Collective barbecues are also available nearby. Renting these camping pitches gives you access to our aquatic area, with slides and heated swimming pools, as well as to all the services we offer.